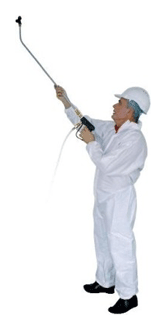 Acoustic Ceiling Tile Cleaning
Tired of looking at that dirty faded acoustical ceiling, wondering how to clean it rather than replace it or paint it. Now there is a way to have those dirty unsightly ceiling tiles restored to their original look without the cost of replacing or painting them.


"cleaning - so that you don't have to!"
Why Clean Your Ceiling?

Improves lighting by as much as 60%

Extends the life of the ceiling.

Cleans, disinfects, and deodorizes 25% of the room which is normally never cleaned.

Because people do notice!
Ultrasonic Blind Cleaning Services

At A All Clean, we provide the latest quality service in the form of ultrasonic blind cleaning. We offer free pick up and delivery for all blind cleaning jobs.

Unlike manual cleaning, our innovative methods will revitalize your blinds and make them look like new again.